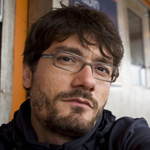 Alfredo Bini ha trovato nel reportage sociale la propria personale forma di espressione.
Tra i reportages:
Water and Land in Sahel, the case of Burkina Faso (2007/2008) ha vinto il titolo di Runner-Up al Travel Photo Of The Year in UK. Si è classificato al 2° posto ricevendo anche 2 menzioni d'onore all'IPAwards (NYC); ha vinto il Silver Award of Excellence al Biennial Juried Photography Show (NY).
Trasmigrazioni (2009/2010) è stato pubblicato da media come Corriere della sera Magazine, BBC, Lens - New York Times, El Pais Semanal, Il Venerdì di Repubblica, Avvenire, Il Manifesto, RaiNews24. E' stato inserito all'interno della pubblicazione accademica African and Black Diaspora edita dalla Taylor & Francis; ha vinto il 2° premio di fotogiornalismo in tre concorsi internazionali: PX3 de la photographie Paris, Fotoweek DC Washington, premio Chatwin Genova, ricevendo 3 menzioni d'onore all'IPAwards (NYC).
Ha esposto presso musei e gallerie come la The Corcoan Gallery in Washington, l'Espace Dupon di Parigi, l'Edward Hopper Museum di NY e dal 2010 è membro dall'agenzia Cosmos di Parigi.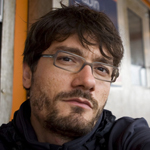 Alfredo Bini has always taken photographs, and has found his own personal form of expression in social reportage photography. He concentrates on stories of social relevance and hopes that his images contribute to the enhancement of public awareness of unbalanced situations.
2007-2008
The reportage Water and Land in Sahel won the title of Runner-Up in the Travel Photo of the Year run in the UK and gained second place in the IPA Awards (NYC) for the Political category as well as two mentions of honour for the Environmental and Feature Story categories. In the Biennial Juried Photography Show at the Edward Hopper House Museum of NY it won the Silver Award of Excellence.
2009-2010
The Transmigrations reportage has been published by leading magazines, newspapers and websites such Corriere della Sera Magazine, the BBC, The New York Times, El Pais, Il Venerdì di Repubblica. It has featured in the academic journal African and Black Diaspora compiled by the De Paul University (Chicago) and published by Routledge - Taylor & Francis. At the IPA Awards (NYC) Transmigrations received 3 mentions of honour in the categories: General News, Feature Story, Portrait and gained second place in 3 competitions: PX3-Prix de la Photographie Paris in the Photojournalism category, Fotoweek DC di Washington in the Photojournalism/Social Documentary category and in the Bruce Chatwin award in Genova.
His work has been exhibited in Europe and the USA in venues such as the Edward Hopper House Museum (NY), the Corcoran Gallery in Washington, the Espace Dupon in Paris, the Palazzo Ducale in Genova, The Hub and the Camera 16 gallery, both located in Milan as well as at various meetings and photo-festivals such as Foiano Fotografia, Ivreafotofestival, Vicino Lontano - premio Terzani. His reportages are used as debating material for presentations and conferences in venues such as the Ateneo Veneto in Venezia, the Società Umanitaria of Milan, the University of Udine, the University of Modena. The Italian TV channel RaiNews24 interviewed him on its Africa issues programme while showing images from Transmigrations. He has been featured for two years running in the Young Blood yearbook promoted by the Italian government/Ministry of Youth which gathers together about 200 young Italians who have distinguished themselves overseas for cultural and professional merits.
He is represented by the Cosmos agency (Paris).