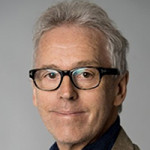 Derk Sauer was born in 1952 in Holland. He started his journalistic career in 1970 as a Belfast correspondent of Dutch Broadcasting Company VPRO. In 1975 he became a co-founder of a television production company Tilt Film. He was a producer of many documentaries that were shot in countries like Vietnam, Iran, Salvador, Lebanon, Afghanistan, Chili, Argentina and Holland. These movies were mainly broadcast on Dutch TV, BBC, ITV and American public channels. In 1982 Derk was appointed as the editor of Dutch magazine Nieuwe Revu, one of the leading weekly publications in Holland, published by VNU. He completely changed the concept of the magazine and made it popular among young and well-off people. In 1986 Nieuwe Revu was named a Magazine of the Year in Holland.
In 1990 Derk opened a joint venture in the USSR together with Union of Journalism of Soviet Union. He was an editor-in-chief and a publisher of Moscow Magazine, the first glossy magazine in the USSR. In 1992 Derk and Annemarie van Gaal founded the company Independent Media and launched The Moscow Times newspaper, followed by magazines such as Cosmopolitan, Men's Health, Esquire and many others. He also founded Vedomosti, Russia's leading independent business newspaper in a joint venture with the Financial Times and Wall Street Journal.
In 2004, Derk and his partners sold Independent Media to Sanoma Magazines. He stayed on as chairman of the supervisory board of Sanoma Independent Media in Moscow. In 2010 Derk, together with investment fund Egeria, acquired NRC Media, the quality newspaper group in The Netherlands, which publishes NRC Handelsblad and NRC Next.
In 2012 Derk was invited to join Russia's multimedia company RBK, the leader in business information in Russia. He was appointed chairman and president. In 2016 The Kremlin forced Derk and his editorial team out of RBK because of their independent and investigative journalism. In 2017 Derk bought back The Moscow Times and launched the Russian language VTimes platform. In 2021 VTimes was named a 'foreign agent' and in March 2022, following the Russian invasion of Ukraine, Derk and his team had to move to the Netherlands. In Amsterdam Derk created a joint newsroom for The Moscow Times, TVRain and Meduza, making Amsterdam one of the main hubs for independent Russian journalism.