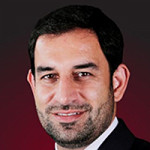 Sami Mahdi is editor-in-chief of Amu TV, a digital news platform he co-founded in 2022 that brings together journalists from within and outside Afghanistan to provide independent reporting in Farsi and Pashto.
Previously, he was director of PAYK Investigative Journalism Center and a fellow at Harvard University's Shorenstein Center. He was Bureau Chief of Radio Azadi (Radio Free Europe/ Radio Liberty) in Afghanistan and before that Strategic Advisor to Tolonews. He worked as CEO of Khurshid TV from 2013-2014 and as Director of News and Current Affairs at 1TV from 2009-2013. He has also been an op-ed contributor to major Afghan and international newspapers and magazines.
In 2012, Mahdi was awarded the Knight International Journalism Award by the International Center for Journalists for his "excellent and courageous reporting". He holds a BA from the School of Law and Political Science of Kabul University (2009) and a MA in International Relations from the University of Massachusetts Boston as a Fulbright Scholar (2016). He was also a teacher at the Policy and Public Administration School of Kabul University.