Abubakar Ibrahim
Daily Trust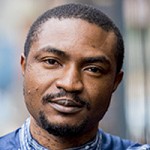 Abubakar Ibrahim, giornalista e autore nigeriano, è news editor al Daily Trust. Ha iniziato la carriera come stagista al Vanguard Newspaper, poi nel 2009, ha iniziato a lavorare al Daily Trust come redattore, realizzando anche reportage in Corea del Sud, Germania, Polonia e Colombia.
Nel 2013 è stato premiato con la Gabriel Garcia Marquez Fellowship per il giornalismo culturale, e più recentemente con la Fellowship Ochberg del Dart Center for Journalism and Trauma presso la Columbia University, la Civitella Ranieri Fellowship (2015) e l'African Writers' Residency Award. Nel 2016 ha partecipato al Journalists Forum for World Peace in Corea del Sud. Nel 2018 ha vinto invece il
Michael Elliott Award for Excellence in African Storytelling
, una collaborazione tra International Center for Journalists (ICFJ), ONE, e la famiglia Elliott che premia i giornalisti africani per i loro sforzi nel dare voce alle persone e incrementare il loro benessere. La sua storia vincitrice,
All that was familiar,
racconta la lotta di due donne, una dal Camerun e una dalla Nigeria, per trovare i propri amati, sfollati dopo l'inizio dell'insurrezione di Boko Haram nei due paesi.
Ibrahim è autore di due libri di narrativa, Season of crimson blossom, vincitore del NLNG Nigeria Prize per la letteratura, e The whispering trees.
Photo credit Jill Jennings.
Video