Ekaterina Kotrikadze
deputy editor-in-chief RTVI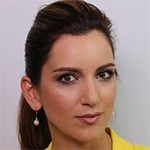 Ekaterina Kotrikadze is Deputy Editor-in-Chief of RTVI, an independent broadcasting network available to 50 million Russian-speaking viewers around the world.
Since her arrival at RTVI New York in 2012, the network has been transformed from an almost dying ethnic channel with a very limited audience into a global media company and a highly cited source of information. Today, Ekaterina successfully combines the duties and responsibilities of CEO of RTVI NYC and a journalist, appearing on air daily. She has interviewed heads of states and ministers, top diplomats and opposition leaders, and has had her columns published in English and Russian. She is the primary anchor of RTVI's News, Newstalk (live show), and weekly analytical program The Time Code.
In 2009, at only 25 years of age, Ekaterina was chosen to lead the first Caucasian news channel PIK (in Tbilisi, Georgia). This ambitious project was created primarily to counteract negative coverage of Georgia by Kremlin-controlled media after the Russian-Georgian war of 2008. PIK was launched under the guidance of and in accordance with BBC journalist standards and enjoyed editorial independence. PIK was shut down abruptly after the parliamentary elections of 2012.
In February 2018 Ekaterina was the first Russian-speaking journalist to break silence on alleged sexual harassment by a senior Russian official, Mr. Leonid Slutsky, the chairman of the State Duma's international Relations Committee. The #metoo movement in the Russian-speaking media began thanks to her bravery. Her courage and integrity helped other alleged victims of Mr. Slutsky's harassment to talk openly about their experiences.
Ekaterina was born in Tbilisi, Georgia. She graduated Summa Cum Laude from the Moscow Lomonosov State University. She is fluent in three languages: English, Russian and her mother tongue Georgian.
Video