Irina Borogan
vicedirettrice Agentura.ru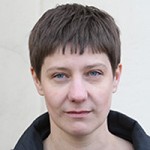 Irina Borogan è una giornalista investigativa russa, cofondatrice e vicedirettrice di Agentura.ru, sito che monitora le attività dei servizi segreti russi. Ha documentato la campagna del Cremlino per il controllo della società civile e il rafforzamento della polizia governativa, dietro il pretesto della lotta all'estremismo.
Con Andrei Soldatov ha scritto
The new nobilty. The restoration of Russia's security state and the enduring legacy of KGB
(PublicAffairs, 2010) e
The red web. The struggle between Russia's digital dictators and the new online revolution
(PublicAffairs, 2015).