Paul Lashmar
City University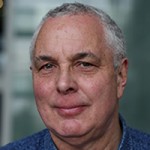 Paul Lashmar è vicedirettore del Dipartimento di Giornalismo della City University di Londra e consigliere del Centre for Investigative Journalism. I suoi campi di ricerca comprendono il giornalismo investigativo, le relazioni tra media e servizi segreti, la copertura del crimine organizzato, il giornalismo digitale e i bias dei media. Come giornalista ha lavorato per televisione e carta stampata, in particolare per The Observer, The Indipendent e il programma World in action (Granada Television). Nel 2018 è stato conduttore di Who paid for Brexit? per il programma People and power di Al-Jazeera. Ha vinto lo UK Press Award nella categoria "Inviato dell'Anno".
Nel 2019 è prevista l'uscita del suo libro
Spies, spin and the Fourth estate
(Edinburgh University Press).
Video