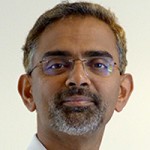 Subramaniam (Subbu) Vincent è direttore del programma Journalism and Media Ethics al Markkula Center for Applied Ethics (Santa Clara University, California). Si occupa di strumenti di sviluppo e programmi quadro per nuove norme nelle pratiche di storytelling, per la creazione di prodotti d'informazione che soddisfino adeguati standard etici, e per la creazione di un nuovo vocabolario che soddisfi la richiesta di media più etici. Nel 2018 ha contributo con il capitolo Understanding the demandside of misinformation and analyzing solutions per il libro di prossima uscita Fake news. Real issues in modern communication, edito da Peter Lang.
Vincent si occupa anche di etica dell'Intelligenza Artificiale e machine learning, ed è co-principal investigator della borsa di studio Responsible Computer Science, assegnata dalla Mozilla Foundation alla Santa Clara University per integrare le questioni etiche nel curriculum di studi. Nel 2017-18 è stato responsabile tecnico per il Trust Project del Markkula Center - un consorzio di compagnie di punta dell'informazione dedite a sviluppare nuovi standard di trasparenza, con lo scopo di aiutare i cittadini a definire meglio la qualità e la credibilità del giornalismo. Per il progetto, Vincent si è occupato in particolare dell'implementazione tecnica degli indici Trust per oltre 30 redazioni. Ha inoltre fornito supporto tecnico per il design collaborativo e lo sviluppo degli indici.
In passato è stato John S Knight fellow alla Stanford University (2016) e visiting scholar allo Human Sciences and Technology Advanced Research Institute (Stanford University). Prima di Stanford è stato editore e direttore di due premiati periodici di attualità in India. È laureato in Ingegneria Informatica alla USC e in Ingegneria Elettronica al National Institute of Technology (India).