Paola Caburlotto
socia Transearch International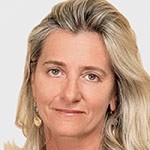 Paola Caburlotto ha dedicato gran parte della sua carriera all'organization development.
Come Marine Insurance Broker in Cambiaso & Risso ha dato avvio al war risk market and ha gestito il team di design del processo di integrazione delle operations. Ha ricoperto ruoli in Strategy & Development in Inlingua, società leader nell'insegnamento e publishing di lingue straniere; in Right Management Consulting, società specializzata in turn-around e Leadership & Organizational Effectiveness; e in XDS, la prima start-up di cloud computing.
Nel 2004, rientra in Italia come Head of FSI, Professional Services & Board Practice in Transearch International, società di Senior Management Recruitment.
È socia e financial supporter di diversi network internazionali femminili: WIN, IWF, WCD, Università di Chicago Booth Women, Rising Tide Europe (90 donne di 35 paesi europee angels che investono in early stage in Europa).
Laureata a Chicago Booth, è VP del University of Chicago Alumni Club of Italy.