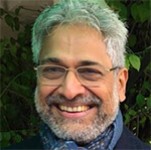 Siddharth Varadarajan è il pluripremiato fondatore e direttore del sito d'informazione The Wire e l'ex direttore del quotidiano The Hindu. The Wire è la più importante piattaforma indiana di informazione digitale e analisi, con una considerevole reputazione per il lavoro d'inchiesta e la copertura del paese.
Come giornalista, Varadarajan ha lavorato per Times of India, occupandosi di nucleare, intervento della NATO nell'area dei Balcani, conflitto nel Kashmir, guerra in Iraq e della distruzione del retaggio pre-islamico dell'Afghanistan da parte dei Talebani. Ha insegnato alla Scuola di Giornalismo dell'Università della California (Berkeley) ed è stato Poynter Media Fellow a Yale e senior fellow al Centre for Public Affairs and Critical Theory (Shiv Nadar University, India). Nel 2017 ha ricevuto lo Shorenstein Journalism Award per aver difeso l'indipendenza dei media in India. Ha ricevuto inoltre la nomina all'Ordine di Bernardo O'Higgins da parte del presidente cileno per il suo lavoro giornalistico e la promozione dei rapporti indo-latinoamericani.
È autore del libro Gujarat. The making of a tragedy (Penguin, 2002) e coautore di Non-alignment 2.0. A foreign and strategic policy for India in the 21st century (Penguin, 2013).