Raju Narisetti
CEO Gizmodo Media Group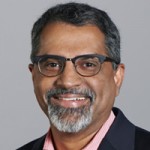 Raju Narisetti is currently the CEO of Gizmodo Media Group of Univision Communications Inc, a group of digital journalism sites that includes some of the web's most enduring and authentic brands, such as Gizmodo, Jezebel, Deadspin, Kotaku, Jalopnik, Lifehacker, and The Root.
A media executive with a track record in creating, rethinking and managing major media organizations in North America, Europe and Asia, Raju was most recently Senior Vice-President of Strategy at News Corp. Prior to that, he was Managing Editor of The Wall Street Journal Digital Network, where he was responsible for WSJ's digital/mobile content strategy and execution; the Managing Editor of The Washington Post, where he led the integration of its digital and print businesses; the Editor of The Wall Street Journal Europe; and the Founder of Mint, the second-largest business newspaper/website in India.
Raju is a Vice Chairman on the Board of International Center for Journalists; a Trustee on the Board of the Institute for International Education, which administers the Fulbright Program fellowships and manages the Scholar Rescue Fund; and a Trustee on the Board of the Wikimedia Foundation.
Raju Narisetti partecipa a questi eventi: