Zuzanna Ziomecka
founder and editor-in-chief NewsMavens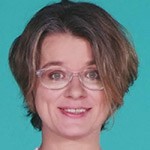 Zuzanna Ziomecka is an American-educated Polish media maker professionally involved in print, television and internet projects since the beginning of the millennium. She was awarded editor of the year for founding and leading Gaga - the first Polish lifestyle magazine for parents in 2008. She was also one of the few women to ever act as chief editor for a weekly magazine (Przekrój) in Poland. Currently, Zuzanna works for Poland's largest liberal daily - Gazeta Wyborcza - where she is responsible for digital innovations for their women's brand Wysokie Obcasy.
In the autumn of 2017 she launched NewsMavens - a news round-up curated exclusively by women from European news organisations. The project is funded by the Google DNI Fund and Gazeta Wyborcza.
Privately, Zuzanna teaches Mindfulness-Based Stress Reduction to emerging Polish leaders, raises two rebellious kids and pretends she quit smoking.
Video